Yellow Spray Theme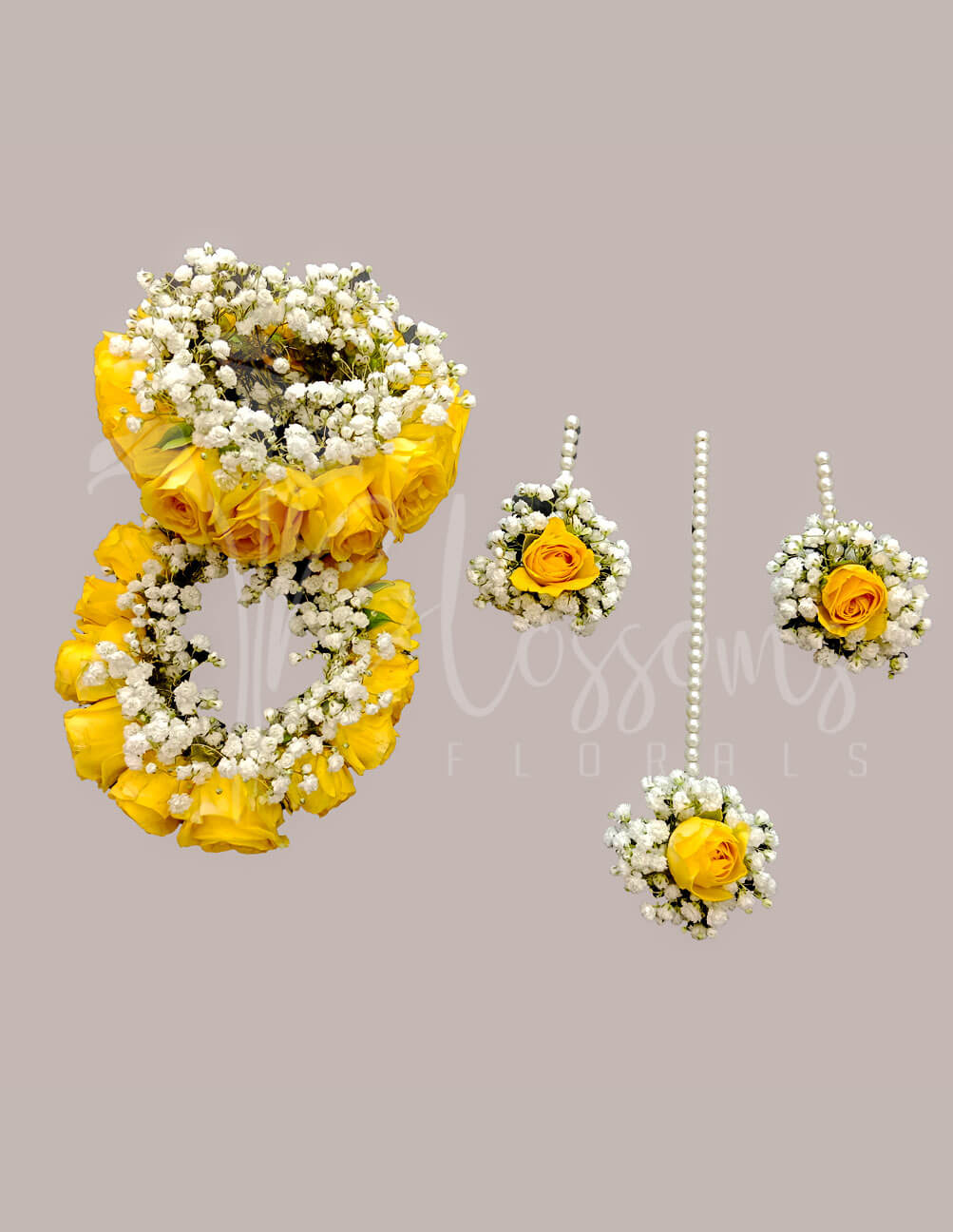 Yellow Spray Theme: The Perfect Floral Jewelry Set
If you're planning to get married in Pakistan or India, you probably already know that your Haldi ceremony will happen right after your Mehendi ceremony, sometimes even on the same day! This can be a chaotic time since you'll be surrounded by family and friends who are all getting ready for your wedding. What better way to help you focus on the present than with gorgeous floral jewelry? The Yellow Spray Theme gajras/hand band, Bindi, and earring set is an ideal choice because it's delicate yet bold, just like your Haldi or Mehendi day. Now, let's talk about that how and what can be worn on your special day.
How to Wear the Floral Jewelry Set
An entire outfit coordinated with a single jewelry set is the easiest way to look effortlessly stylish. You can mix cool-colored attire with warm-colored jewelry. If you are wearing a cool-colored outfit then you should incorporate jewelry in warmer colors. Remember, jewelry must match the occasion and trend. Moreover, wear jewelry that compliments your skin tone.
Can I Wear an Actual Flower Crown?
Flower crowns, especially the bridal shower, Haldi, and Mehendi flower crowns, are very popular accessories during wedding ceremonies. In fact, there are many different ways you can wear your flower crown depending on your celebration. Some people will wrap their flowers around their hair and then secure it with a hair tie or some bobby pins and you're good to go.
How Do I Choose my Clothing Color Scheme?
Choosing a color scheme for your wedding dress can be difficult. Here are some tips to help you along the way.
Make sure it matches the season. If your wedding is in July, then you might want to go with pastels and blues/greens. If it's November, then try something red, and orange/brown.
2) Consider your skin tone, hair color, eye color, and dress style when choosing colors that will complement these features best! For example, if you have light skin and dark hair then you should probably avoid hot pink dresses because they may clash with your natural coloring.
Where Do I Get Wedding Jewelry That's Actually Affordable?
If you are a bride, it is important for you to stand out from the rest. Finding a perfect pick that speaks to your Pakistani heritage and personal style can be difficult - but Blossom Floral shop has got you covered. They have years of experience designing customized bridal jewelry just for women like you. Their designs collections including 'yellow spray them' and 'shining pink them', are delicate and bold, traditional and contemporary - the list goes on. They strive to provide customers with affordable items so they can show off their individuality without breaking the bank!