Floral Jewelry Purple & Orange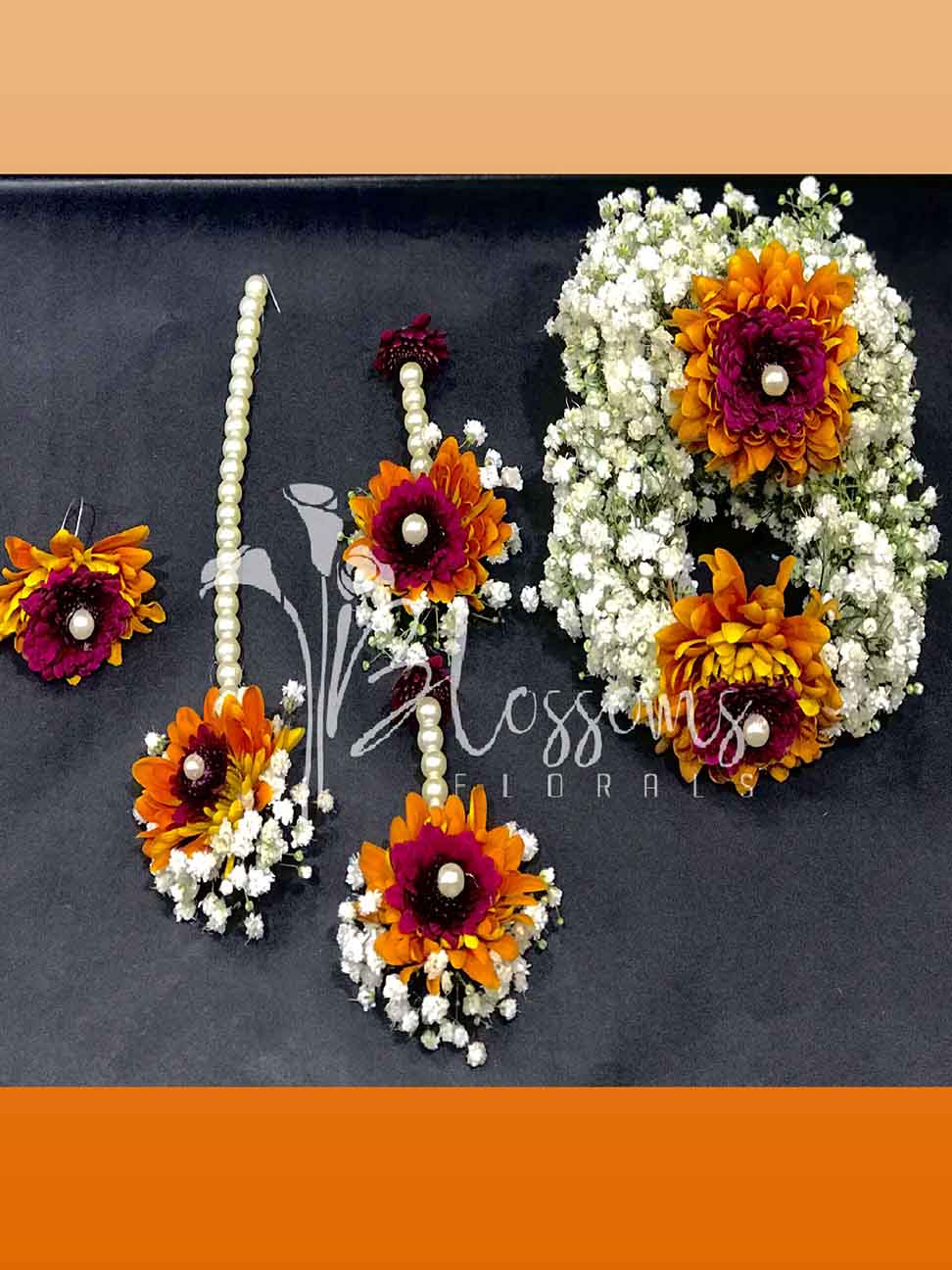 Floral Jewelry Purple & Orange: New Addition to Floral Jewelry
The trend of wearing jewelry has always been there for ages. Women of every age love to wear jewelry on different occasions. It would not be wrong to say that women can never say NO to jewelry. And if jewelry comes in the shape of fresh flowers it would be like icing on the cake. Who would not love to wear and shine in that gorgeous fresh flower jewelry? In the present time, women have many choices of floral jewelry brands that are offering a variety of lavish ornaments. A huge variety of floral jewelry in different colors like red rose floral jewelry, Yellow-white floral jewelry, Floral Jewelry Purple & Orange, and many others are easily available in the market. Let's talk about the use of this sparkling Floral Jewelry in detail.
WHY WEAR FLORAL JEWELLERY?
Like other Gold and Silver jewelry, floral jewelry is also one of the favorite items of women. Fresh and fragrant jewelry always catches the eyes of viewers. Every woman wants to grab attention at events so floral jewelry can do the job well. In most of the events, we are looking for a very traditional and elegant look and floral jewelry has made it easy for us to give that desired look. In the present time, we can see that most brides and bridesmaids have switched to floral jewelry rather than Gold or Silver jewelry. So, it's a different and unique way to flaunt your celestial look.
WHEN TO WEAR FLORAL JEWELLERY?
Floral jewelry is not only associated with events like weddings but you can also wear it at any event of your choice like an engagement party, baby shower, etc.
Like no restrictions are there to wear it at a specific event. For ages, we have been seeing brides embellished with beautiful floral jewelry. Floral jewelry is not only divine but also cost-friendly like anyone can afford it easily. Bridesmaids also look very charming wearing headbands and rings made out of fresh flowers.
DIFFERENT ADORNMENTS OF FLORAL JEWELLERY?
A lot of items come under the umbrella of floral jewelry like
Mang bindi,
Gajras,
Rings,
Earrings
Hand bands
Crowns
Waist-Belts
HOW TO PAIR WITH FLORAL JEWELLERY?
Flower jewelry always makes us feel fresh and close to nature. The trend of floral jewelry is evergreen and you can pair it up with almost all colors and dress designs. Like if we talk about a specific event of Nikah, the bride can wear floral dyed pink jewelry with her off-white gown. There are many other options because almost all the flowers are there in every season so we have a vast variety of floral jewelry to pair up with or dress accordingly.
WHERE TO GET THE FLORAL JEWELLERY OF YOUR CHOICE?
If you guys are looking for a wider range of floral jewelry then stop roaming here and there, just visit Blossom Floral shop or place an online order to get your desired items. Because they are offering a huge range of floral jewelry in almost every color like floral jewelry Yellow white, Floral Jewelry Purple & Orange, and many others.