Floral Jewelry Yellow White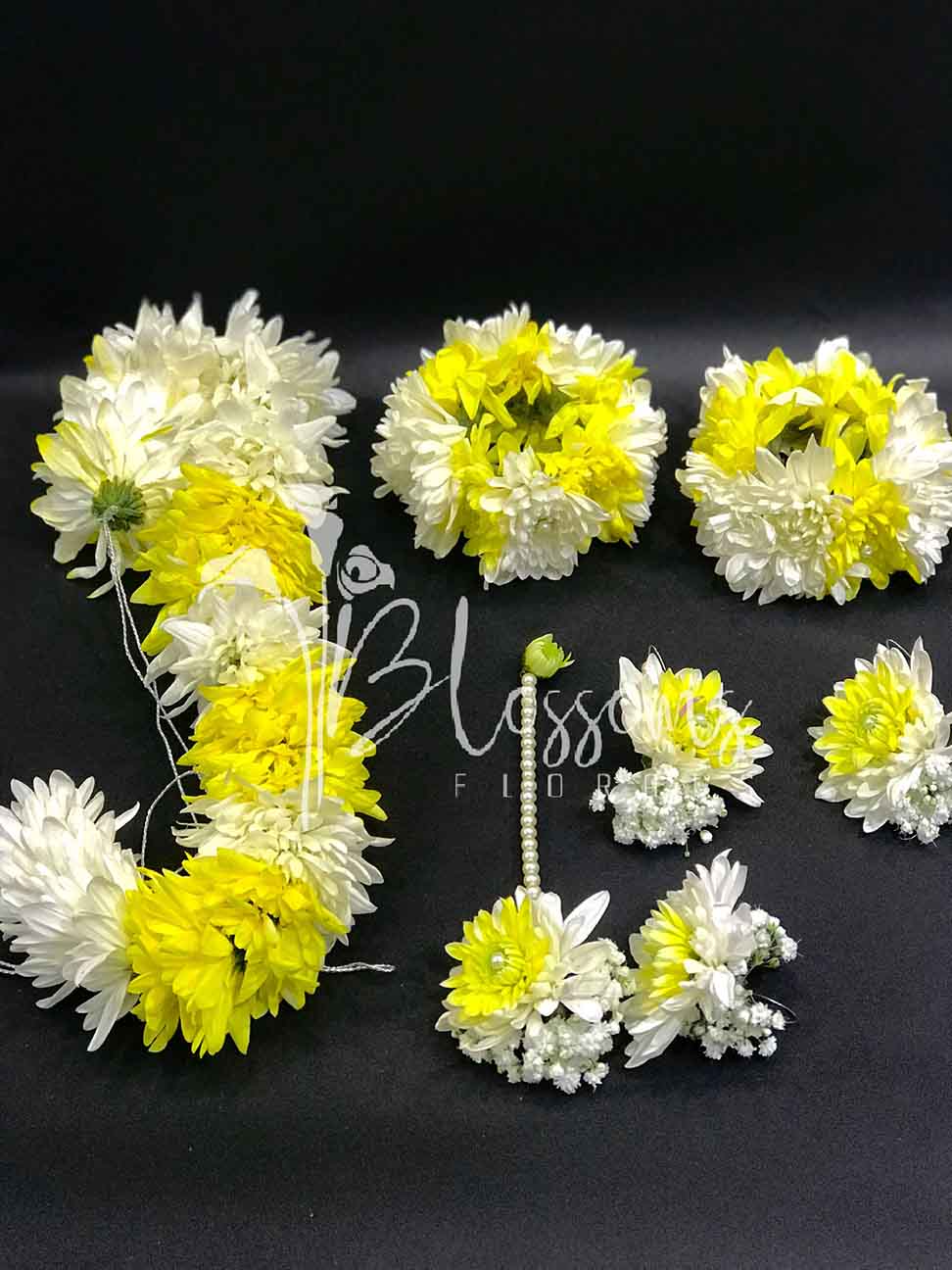 The wedding madness is incomplete without colors. Especially, if we talk about brides, floral jewelry is a must-have. That special girl looks resplendent in floral jewelry. Events like Haldi, Mayun, and mehndi are celebrated with beautiful flowers like yellow-white. Let's talk about how specifically yellow-white jewelry enhances your Mehndi look:
How yellow affects the beauty
Yellow is actually the color of happiness and sunshine. It adds to the beauty of events in the shape of many flowers. Mehndi, which is a traditional part of the wedding, is always embellished with yellow flowers. It gives a very fascinating view, everything looks very classic when it's furnished with yellow flowers. When it comes to yellow flowers, they have always been considered the signature color of Mehndi decor.
Floral jewelry Yellow white makes the perfect mehndi bride
Mehndi brides should always look very classical and aesthetic and yellow-white floral jewelry makes her so. White flowers like Jasmine and lilies are the best match with yellow flowers like cowslip. Both flowers complement each other so well and give a very pleasing and dazzling look. Plus, this combination goes well with almost every color.
Different Floral Accessories for a Mehndi Bride
Asian countries like India and Pakistan are well known for their different adornments of floral jewelry as they add glamour and elegance to the bride's look. Mehndi bride's look is incomplete without these beautiful ornaments. Floral accessories include necklaces, rings, hand bands/Gajra, Maang Tikka, earrings, Maatha Patti, etc.
Which Dress Color Goes with Yellow-White Jewelry
Most of the mehndi dresses look very adorable with this color combination of jewelry. All the basic colors like orange, green, yellow, red, and pink go with this jewelry and enhance the charm of the bride.
How Other Occasions Could be Brightened up With this Floral Jewelry
Such floral jewelry is not meant to be used on mehndi occasions only. But this is not the case. Because you can wear it and rock your look on many other occasions like Haldi, Mayun, Dholki, Nikah, etc. It adds never-ending sparkle to your look.
Can Bridesmaids Wear Floral Jewelry?
Most people think that only brides can wear floral jewelry or that such jewelry is associated with brides or to-be brides. But it's a big NO! Because bridesmaids are so important as they play so many important roles in a wedding; they assist the bride and deal with guests, not only this, but they also make the wedding more enjoyable by adding some performances. So they should not be ignored. There are so many floral jewelry options for bridesmaids including, gajras, rings, and hair crowns.
Where to Find the Best Floral Jewelry of Your Choice?
If you want to buy beautiful floral jewelry look no further than Blossom Floral Shop, they offer a wide selection of customized floral jewelry. This floral boutique carries an exquisite selection of flower jewelry offered at very reasonable prices. They offer same-day delivery throughout Pakistan. You may browse their gallery of images to see what they have in store!
Happy shopping !!!